Dear Friend,
Here's the truth about iPhone photography:
If you want your iPhone photos to stand out, you need to know how to edit them. And there are 2 ways to approach iPhone photo editing.
First, there are the natural edits. This is when your photo reflects what you saw when you took it.
Of course, you should always adjust the photo to emphasize what's special about it. But if you're doing natural editing right, your photos will always seem realistic to the viewer.
Now, if you've been my student before, you know how much care and thought goes into creating beautiful, realistic edits. It's a world of its own.
But you don't have to stop at creating natural edits…
There's another way to approach iPhone photo editing – the artistic way. And artistic editing has one huge advantage…
With Artistic Editing You Can Create
Images That Go Beyond Reality
You don't always have to portray the world exactly how you see it with your eyes. That's the job of a photojournalist.
With artistic editing you're free to create any story or composition you desire. You are no longer bound by what's real and what's not.
You can use artistic editing to take several photos and combine them into one surreal masterpiece. It allows you to inspire others with stunning iPhone photo art like this: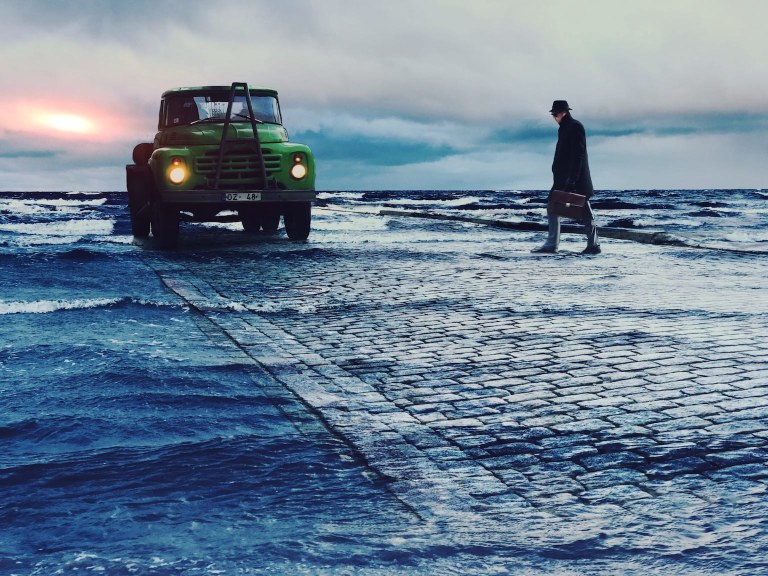 All works of photo art displayed on this page were made with an iPhone.
When I first saw this image, there was only one thought in my head…
How Can I Create My
Own Works Of Photo Art?
There is so much I love about this artistic edit:
How the man in black brings mystery to the powerful story of the image
The surreal feel of the composition and how it seems to fit together so perfectly at the same time
How the paved road complements the green retro-style truck
How the sun and the headlights stand out in the dark, wavy ocean
I wanted to create similar artistic compositions. I knew it was time to take the logical next step in my iPhone photography. It was time to start creating my own works of art.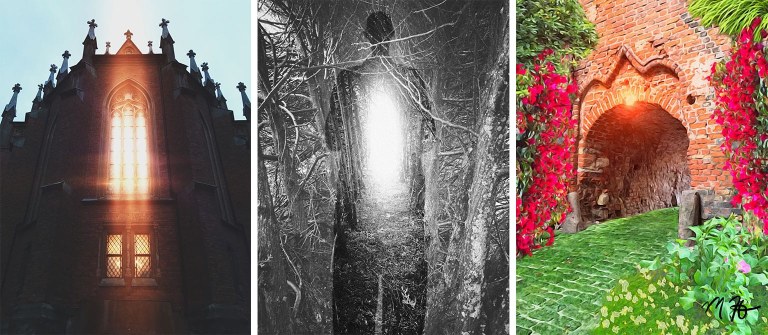 Your images don't have to portray the world exactly how you see it with your eyes.
But there was a problem…
I Didn't Know Where To Start
Have you ever had a blank canvas in front of you when you start working on an art piece?
It can be quite daunting…
And when I first tried artistic editing, I was struggling.
I was constantly asking myself, what's the best way to create a story with my edit? How to arrange the photos I want to use on the canvas to create a strong composition?
And I didn't have good answers to these questions. Honestly, I was stuck.
And I certainly wasn't able to create anything meaningful.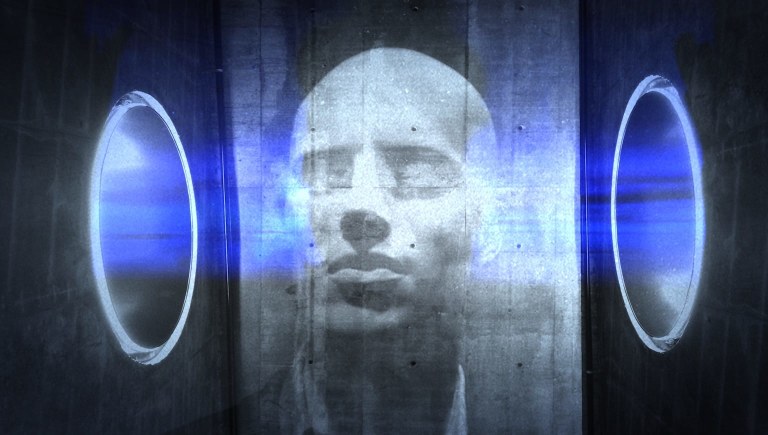 With artistic editing you can create images that go beyond reality.
But that wasn't all…
I Wanted To Avoid The Rookie Mistakes
If you've ever seen artistic edits on social media, you know how easy they are to overdo.
I've seen incredible fantasy edits that use artificial lights, reflections and birds. But I've also seen other similar edits that were tacky and poorly done. I didn't want to make the same rookie mistakes. But I also didn't know what I should or should not do with my edits.
I wanted to unleash the artist within me. I wanted to develop my own unique style.
But I just wasn't ready.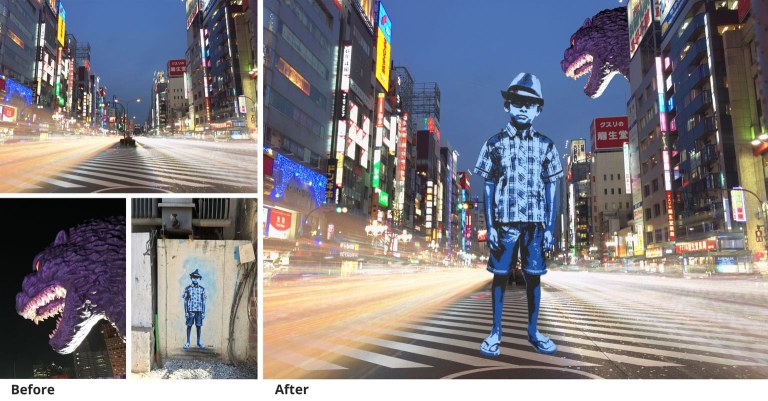 Use artistic editing to take several photos and combine them into one surreal masterpiece.
I had to be honest with myself…
I Was Stuck
And on top of that, I was faced with selecting the right editing apps for the job.
I still remember how long it took me to go through all the natural editing apps to find the right ones I wanted to use. It was a long, hard process that took me several years.
And I wasn't sure if I wanted to go through it again to also master artistic editing.
But I still wanted to create serious photo art with my iPhone. It was time to take my iPhone photography to the next level. I just wasn't sure how to get there by myself…
And That's When I Met Mark Hemmings
Mark is an internationally recognized photographer and photography instructor.
Before I tell you the rest of the story, there's something you should know about Mark…
Over his 20-year career as a professional photographer, Mark has really established himself as a photography expert. When Mark talks about photography, everyone listens – even if they've been doing photography longer than Mark himself. He's THAT good.
Mark's high-end photography workshops cost upwards of per person.
I was blown away by Mark's knowledge and experience as a photographer.
But then he casually showed me his iPhone photo art…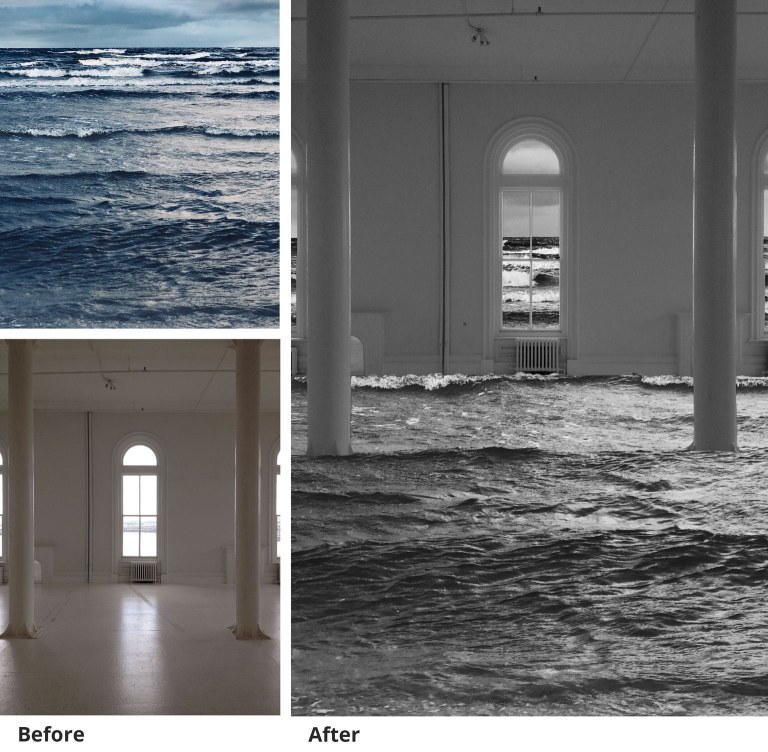 All works of photo art displayed on this page were made with an iPhone by Mark Hemmings.
I knew that Mark could help me take a massive shortcut to mastering iPhone photo art. This was my one chance to learn everything I needed to know about it as quickly as possible.
Thankfully, Mark was generous enough to agree to share his secrets.
And the first thing he told me was this…
There Are Specific Techniques Anyone Can Use To Create Stunning iPhone Photo Art
And anyone can become a true iPhone photo artist by applying these techniques.
When I started using Mark's techniques, my iPhone photo art was never the same again.
Creating serious photo art on my iPhone is no longer frustrating. It's now fun and rewarding.
Thanks to Mark my photo art improved so much that I wanted to find a way to share his secrets with the iPhone Photography School community.
And luckily, Mark agreed to create something special for us…
Introducing iPhone Art Academy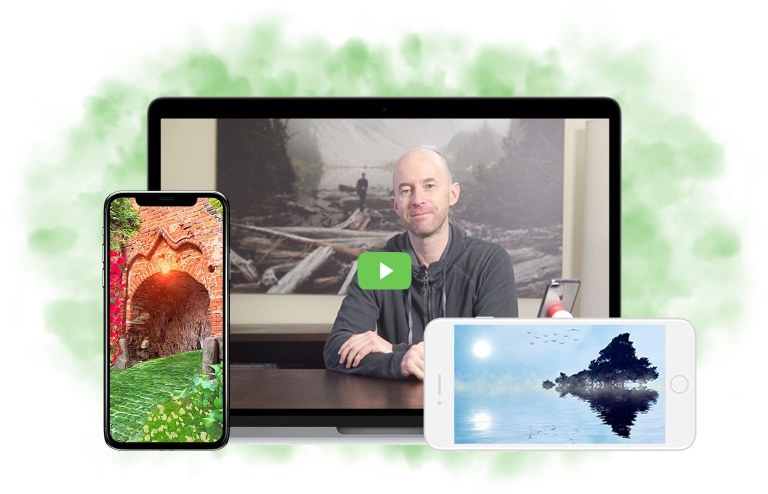 iPhone Art Academy is an in-depth online course that will show you how to create stunning, print-worthy photo art with your iPhone.
This course will show you which editing apps to use and exactly how to use them…
But more importantly, it will help you see the world through the eyes of a photo artist.
iPhone Photo Art Will Soon Become
Your Favorite Creative Hobby
You'll see your surroundings in a completely new way. What used to be an ordinary tree or a shadow will now become the centerpiece of your next art project. You'll learn to appreciate the ordinary things around you because you'll see the artistic potential that they have.
And your imagination will run wild. When you see a cool movie poster or a creative ad that you like, you'll be able to recreate it (and put your own spin to it) in just a few minutes.
In fact, you'll be able to create your own works of photo art so stunning that you'll want to print them on a huge canvas and hang them on your living room wall.
You'll be able to create an entire portfolio of your own iPhone photo art. Your art will leave your friends and family speechless… They'll always keep asking you how you created it.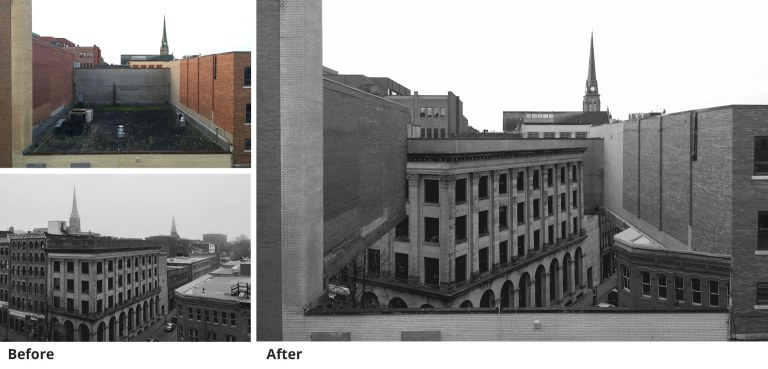 Even ordinary objects like buildings can be the subject of your next artistic masterpiece.
Just A Few Short Days From
Now You'll Be Able To…
Compose pro-level artwork in just a few minutes using nothing but your iPhone
Create beautiful photo art that you're proud to show off to friends and family (and that gets a flood of likes and comments when you post it on social media)
Know all the insider secrets to achieve incredible artistic effects so captivating that other people won't believe they were created with "just your iPhone"
Feel confident about your creative ability because you'll know how to transform even your craziest ideas into reality - even if they're abstract or surrealistic
Break through to the next level of iPhone photography and explore your passion without constantly second-guessing yourself (now you'll be guided by a pro)
Create meaningful art that inspires others to pursue their own creativity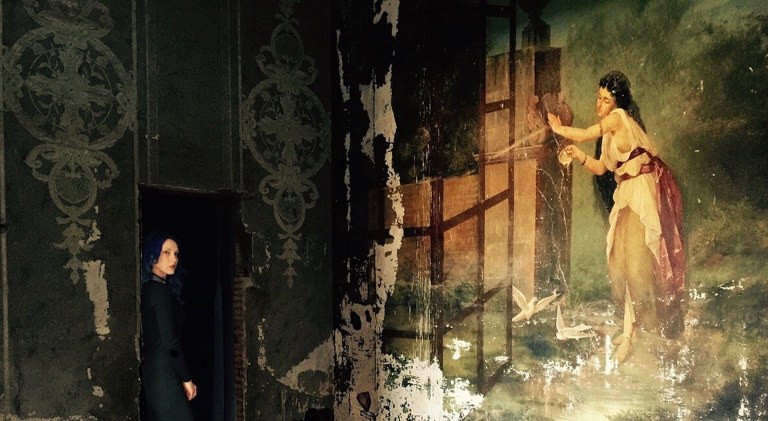 You can use seemingly unrelated photos to create serious photo art.
But there might still be this nagging thought in your head…
Am I Talented Enough To
Create Serious Photo Art?
At least that's what I used to worry about.
But the truth is that you don't need any special talent or ability to create serious photo art with your iPhone. Don't mistake your lack of training and guidance for being untalented.
If you want to create stunning, print-worthy photo art, all you have to do is follow Mark's step-by-step process and apply his simple but powerful artistic editing techniques.
I know that anyone can master these techniques. I was also struggling with artistic editing before I learned Mark's techniques. And the impact they had on my art was incredible.
After you've discovered Mark's techniques, creating another masterpiece will be a breeze.
You don't need any previous editing experience to join iPhone Art Academy. All lectures start from the very beginning while gradually progressing into advanced techniques.
There are no prerequisites. Anyone can learn to create stunning iPhone photo art.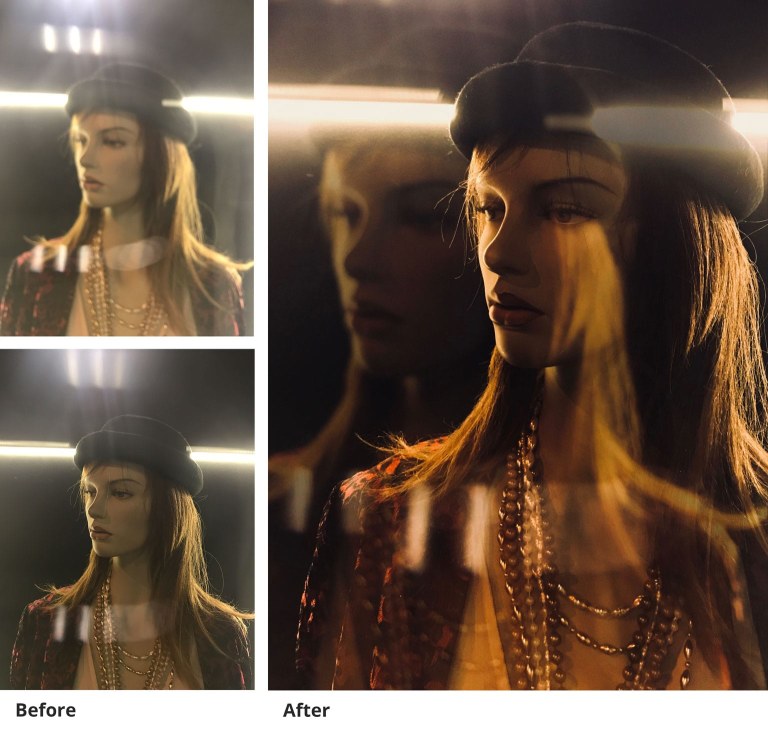 You'll leave your friends and family speechless with your photo art
and they'll keep asking you how you created it.
So What's Covered In iPhone Art Academy?
The short answer is EVERYTHING.
If there's something you need to know about iPhone photo art, it's in this course.
Here's just a small sample of what's covered in this course:
What to do when you're faced with your first photo art project but don't know where to start (and how to get over that dreaded blank canvas phase quickly)
How to use multiple layers to create surreal landscapes, cityscape optical illusions and other surrealist edits you never thought you would be able to do yourself
The easiest way to create silhouettes when the original image doesn't have any
How to naturally fit new elements into your images that weren't there before
When to apply which texture (and how much texture is too much) to create a nostalgic vintage feel or an idyllic scenery that melts the heart of the viewer
Step-by-step instructions on how to turn day into night, add a magical starry sky or a mystical half-moon to transform ordinary photos into exceptional works of art
The #1 app to create stunning reflections (even if there were no reflections before)
How to discover and develop your own signature style as a serious photo artist
What to do when you feel like you're not creative enough or need more inspiration
How to select the perfect source images for your art projects (you'll be surprised to discover that poor photos you were ready to delete often lead to the best edits)
The quickest way to cut out complex shapes to get fascinating results in minutes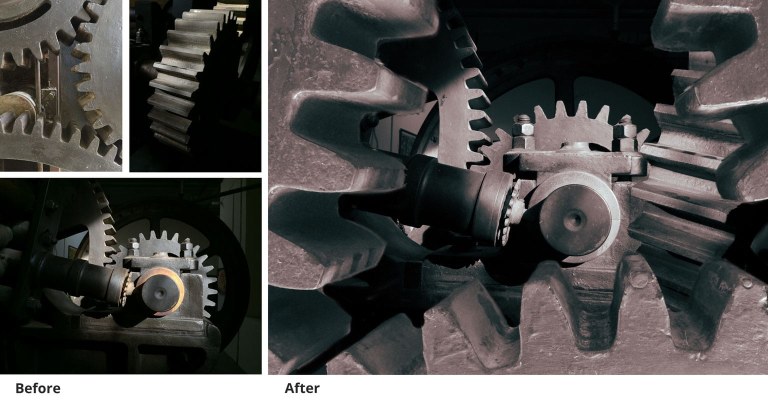 Discover how to recreate this exact photo in Module 1 of iPhone Art Academy.
Mastering iPhone Photo Art
Has Never Been Easier
iPhone Art Academy will show you how to create any artistic effect you can think of – with step-by-step instructions, just a few apps on your iPhone, and often in 10 minutes or less!
Mark explains all editing techniques clearly without unnecessary jargon or complications.
So when you start working on your own projects, you'll know exactly which app to use and what each effect in these apps does. It's never been easier to create serious photo art!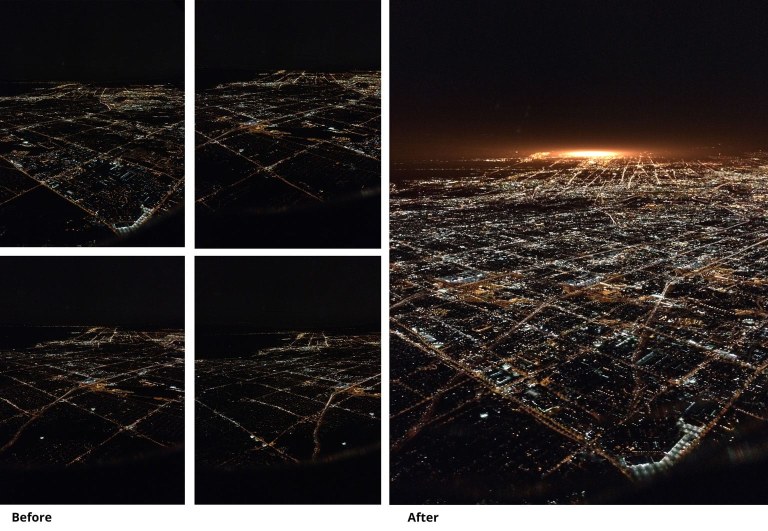 iPhone photo art will quickly become your favorite creative hobby.
If you're excited about creating your own photo art, you're probably wondering…
How Much Does It All Cost?
But first, I want to discuss the alternatives if you decide that this course is not for you.
You could try to figure it all out on your own, which might actually work if you've done a lot of creative projects before AND if you're really comfortable with technology. But it will take you months (or even years) of hard work to discover everything on your own.
It took Mark 9 months of intense full-time studies to really master iPhone photo art. That was in addition to his 20 years of experience working as a professional photographer.
So if you choose to figure it all out on your own, good luck. But it won't be easy.
You could also hire an iPhone photography teacher. Most of them are not great at artistic editing, but some are. If you can find someone in your area, you could learn that way.
The only problem is that to become really good it will cost you at least …
But if your teacher is someone as widely recognized as Mark, it will probably cost you a lot more. Mark's high-end photography workshops cost upwards of per person.
And of course, you won't have access to any of the in-person lessons once they're over. But with this course, you'll keep lifetime access to all the video lectures.
Now, the good news is that today you're not going to pay or even …
The regular price of iPhone Art Academy is , which is an excellent deal if you consider how much your creative life will improve after you complete this program.
But today you won't be paying the full price. I know what kind of results our students get from this program, and because of that I want to get it into as many hands as possible…
So today you can get lifetime access to iPhone Art Academy for only .
Or if you prefer to pay in installments, that's 3 easy payments of .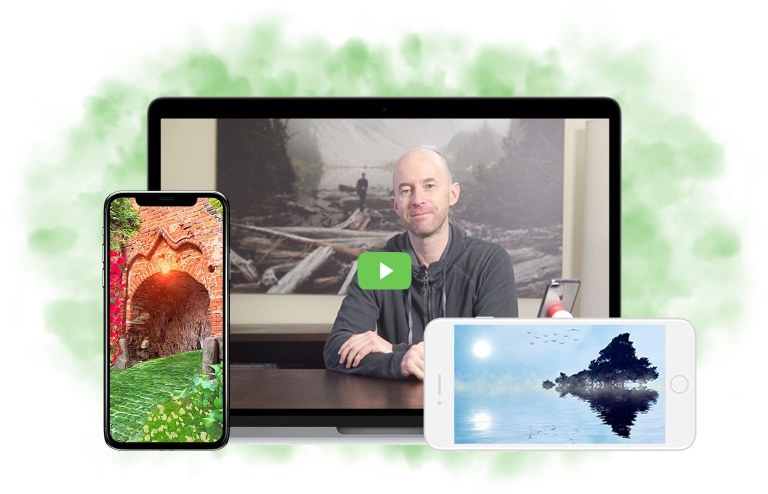 iPhone Art Academy Comes With A

30-Day Money-Back Guarantee!
Normally
Today Only
(Or 3 Payments Of )
Click Here To Join
iPhone Art Academy
Secure Payment
30-Day Money-Back Guarantee
If you're not happy with iPhone Art Academy for any reason, just let us know and we'll refund your payment.

Simply send an email to emil@iPhonePhotographySchool.com and you'll get all your money back.

So you don't have to make the final decision right now. Just sign up now to lock in this discount, see if you like the course, and then make your final decision.